Outdated information  please see Cards of Myth for up to date infoEdit
'War Element Damag'e for the new cards systemEdit
The new card system dramatically changed the damage the war elements do, I have a chart showing the percentages used to calculate damage per card. You will not find any green Call of Dran or Heal of God cards, those are Blue level and above. In my chart the yellow area shows the percentages, and the light blue area shows the card level needed to be at the levels they were prior to the change, if there are 2 numbers listed it's because the old system falls between them.
NOTE: Castlot always rounds DOWN!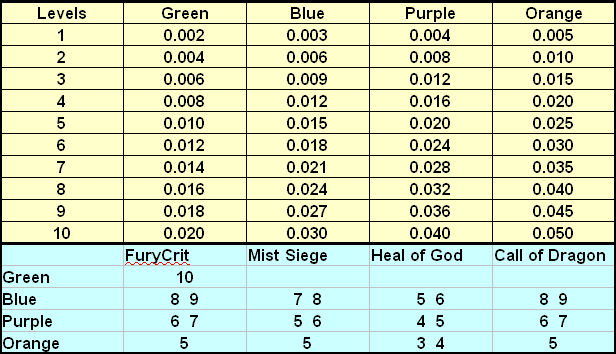 So using this chart for Fury Crit Green lvl 10 is close but not quite were it was, and Green lvl 10 Mist Seige is way under what it used to be. The Blue lvl 8 does .016 per card( 2 needed.) The old system was 5% x # of troops sent, 1000 x 5% = 50 dam, new system (.024 x2) 4.8% x 1000 = 48 dam. ( the actual formula for the old system: ( 5% x A troops + 5% x B troops + 5% x C troops + 5% x D troops)/4 or 3 or 2 depending on how many types you sent, was same for HoG( 5%), MS( 7%), and CoD(10%).
The New system will allow you to calculate damage correctly even if you upgrade to higher cards.
CoD example: 3 lvl 6 blue cards 1 lvl 7 Purple card, sending 6656 troops. 3x .018 x 6656 + .028 x 6656 = 359 + 186 = 545.